Taxi Service with Courchevel Altiport
Our transport service ensures your arrivals and departures from the Courchevel Altiport
---
Arrival or departure of Courchevel Altiport
For your arrival at the Courchevel Altiport by plane or helicopter we provide a personalized welcome with Taxi Driver. Our transport service is based in the station and can take care of you, your luggage, right out of your helicopter or plane.
The trips are made with luxury and recent vehicles: sedan or Van Mercedes. On request you can choose the type of vehicle you want.
You arrive at the Altiport Courchevel fora couple of days, we can set up a service of provision of vehicle with driver. You will be able to move in the station for your shopping, your appointments or your restaurant booking. This service is offered and invoiced per hour within a radius of 150 km maximum. So if you want to join the resort of Méribel to enjoy gourmet restaurants or après-ski this is included in the service of provision without exceeding miles. The drivers who carry out this service come from Courchevel and are very familiar with the resort, the structures and the ski resorts nearby. You can ask them at any time for advice on choosing a restaurant or the various activities offered in the resort whether you are with your family as a couple or with friends.
Your Taxi Services with Courchevel Altiport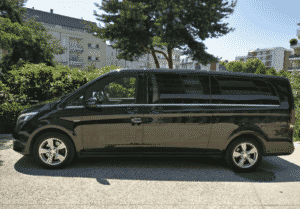 Our taxi company Kaya-Cab is based in Courchevel. Even if your arrival or departure is at the last minute, we will be available as soon as possible.
Upon your arrival at the Courchevel Altiport, our taxi drivers will welcome you with high-end vehicles, you will find mineral water, confectionery,  phone charger cable and magazines on the station of Courchevel. In addition to comfort, you will know better what the resort offers: the various restaurants, activities and hotels of the resort of Courchevel.
We provide a taxi service on the Courchevel Altiport to reach your hotel and the nearby airports. Our drivers are discreet, you can move in Courchevel or join the altiports of Meribel and Val Thorens in peace.
We are happy to help you with your requests
PTo ensure a high quality service, all our vehicles are recent, upscale, our drivers are experienced =and accustomed to snowy roads. For maximum safety all vehicles are four wheel drive and equipped with pneumatic tires for driving on snow.
For your convenience, we have a luggage transfer service which allows you to arrive by helicopter to the Courchevel Altiport and reach your chalet or hotel with ease. We will transfer your luggage from the airports of Geneva, Lyon, Chambéry to your hotel. This service avoids worrying and carrying your luggage, we will take care of it so that you make the most relaxing of your stay in Courchevel. Courchevel Taxi Drivers will deliver your luggage directly to your Chalet or Hotel.
Your Taxi driver in Courchevel are available and happy to help you
Our Taxi Courchevel Company is available 24 hours a day, 7 days a week. If youneed more information on our Courchevel airport transfer service, please do not hesitate to contact us. We will answer as soon as possible. Or you can simply send us your request via our website through our online form.